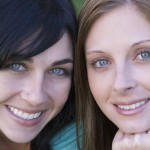 Multiple Tooth Implants, similar to the single dental implant or total teeth replacement, can give rewarding results in improved appearance and function. Dr. Entrekin has placed countless dental implants and has found the results exceptional, predictable and reliable. Dental implants are perhaps the most reliable procedure in dentistry today. Multiple teeth implant procedures are recommended for people who have several damaged or missing teeth in a consecutive row, regardless of their position. Multiple tooth replacement includes both fixed options (not removable bridges), and removable teeth made from porcelain or acrylic, all supported by dental implants.
Multiple tooth implants have seen results which include:
Patients able to eat all foods that were once enjoyed but have avoided
Restore the confidence of a beautiful smile
Cost effective
Replacement of partial or full dentures which are often bulky, non aesthetic and compromise the adjacent teeth. Dentures will destroy bone.
Better function
Replacement of multiple teeth with fewer implants therefore less cost.
Preserve natural teeth
Restore appearance
Regain the appreciation of food as the palate will be free of any covering material.
With dental implants, the palate can now feel the texture and temperature of food, and regain a greater sense of taste.
Multiple tooth implants can last a lifetime.
This type of situation requires more than one implant to replace the form and function of multiple teeth. A patient may have only a few missing or damaged teeth, or may be missing all of their teeth. The use of partial or full dentures have many disadvantages, besides being uncomfortable and unnatural. Dentures predictably cause rapid bone loss which results in that "aged appearance" due to loss of the natural form and contour of the face. This loss of bone often results in the premature wrinkling of the face. Multiple dental implants will not only restore a beautiful smile and function, but will maintain the normal amount of bone in the jaws, just as natural teeth.
The time frame allowed to complete treatment will depend on many factors, but generally is about four to six months, from the initial visit until the placement of your new implant supported teeth. There is an initial healing period after placement of your implants, followed by the creation of your new teeth. There are different types of dental implants, used in different situations, as the available amount and quality of bone must be considered. By far,the most common is the root-form implant which is designed to serve as the root of the tooth, similar to a natural tooth. When there is extreme bone loss, a custom made implant, which is placed over the bone, may be utilized. Dr. Entrekin will make his recommendation based upon your initial examination and consultation appointment.
The care of multiple tooth implants are not unlike natural teeth. Good home care and regular professional cleaning and examination is expected, just as with natural teeth. With the expert treatment provided by Dr. Entrekin, and with your good home care, you can expect your new dental implant teeth to last a life-time. Dental implants and teeth are not affected by tooth decay, but, as with natural teeth, must receive proper care.
Dental implants will look and function like your natural teeth. This means that you will be able to eat what you want, without fear or embarrassment. They actually become a part of you, while also making possible that beautiful smile!
Dr. Entrekin and his team provides multiple tooth implant procedures on a regular basis. Therefore, they have wide ranging experience and are able to determine each individual situation and its effect on the mouth overall. Montgomery Dental Implants is one of the few practices where this technique is currently offered in the Montgomery area. Montgomery Dental Implants makes it a convenient and straight forward process to experience the multiple benefits of dental implants, with all consultations and procedures done at one location.
For all your dental implant questions, and to book a consultation with Dr. Entrekin about whether multiple tooth implants are the right option for you, call us at (334) 649-6299 or please fill out the online inquiry form To the right or on our contact page.